Little Wood is a 2 acre disused pheasant pen, with a woodland of sycamore, oak, pine, thorn, elder and rough grass. My aim is to develop the site for wildlife photography, eventually offering it as an extension to my tuition packages giving photographers the opportunity to photograph birds and mammals in their natural habitat.

It's now mid February and I have sited two of my pop up hides number one on the edge of the wood looking over the rough grass and number 2 on the southern boundary of the grass area looking north. The hide at the edge of the wood is going to be my main hide and gives me a view over the rough grass area and the woodland. Hide two I have positioned so that the wildlife in and around the area gets used to the changes and hides being there.
Outside hide one I have hung some mixed grain and peanut feeders, which immediately attract Blue, Great ,and Coal Tits and wanting to get some more natural shots I drilled holes in a couple of fallen branches and then filled the holes with peanuts. Both the male and female Great Spotted Woodpeckers are now regular visitors to these, along with a rather greedy Jay that takes 3 or 4 peanuts away at each visit.
All of my visits to the hide up until now have been early mornings arriving on site before first light. Today, February 15th I arrive at 11am and shortly after getting settled a Brown Hare makes it's way across the rough grass and sits just in front of the hide, it's nose and ears are twitching and I am sure it senses something but it stays long enough for me to get a decent shots. Although the area is home to a very large rabbit warren this is the first Hare I have actually seen at Little Wood. Arriving later makes no difference to the numbers of usual visitors to the feeders but nothing new to add to the list.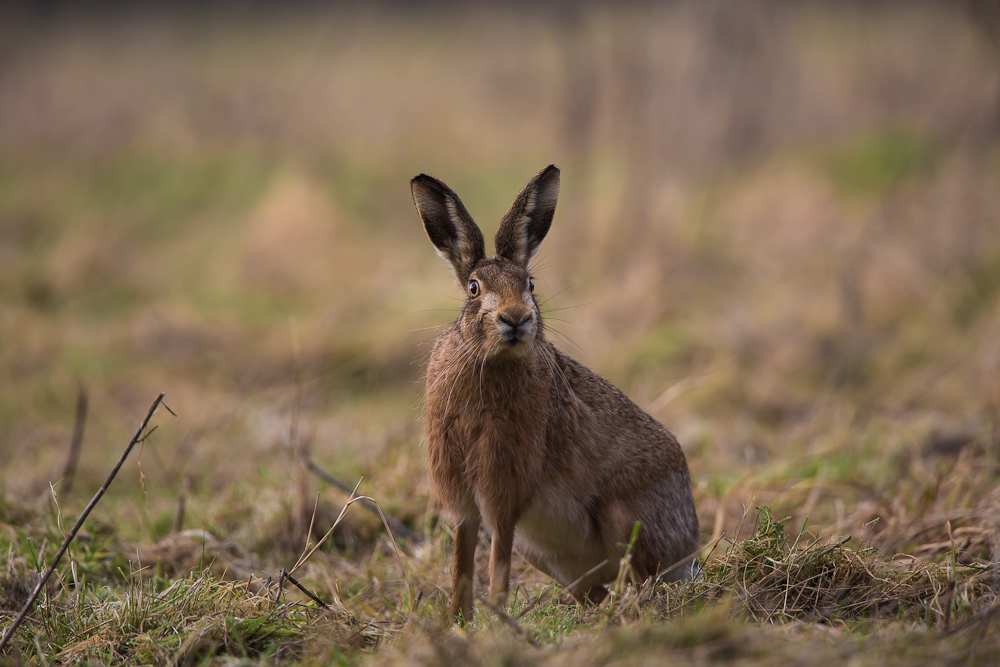 For more images taken at Little Wood see the Collections Gallery